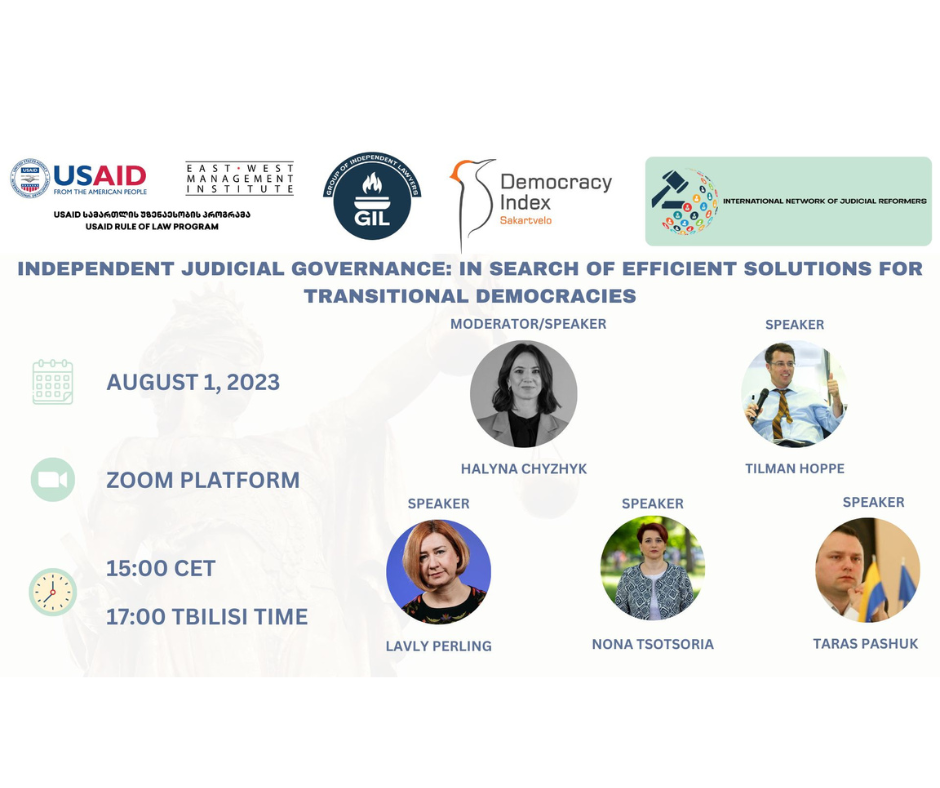 Online Discussion: The Role of Independent Judicial Governance in Transitional Democracies
On August 1, 2023, the Group of Independent Lawyers and Democracy Index - Georgia, with the support of USAID Rule of Law Program, organized an international online discussion on the role of independent judicial governance in Eastern European countries.
In 2021 experts from Armenia, Bulgaria, Georgia, Moldova, Romania and Ukraine with the prepared Recommendations towards ensuring accountable and independent judicial governance in transitional democracies (herein after the Recommendations) . The discussion was built upon prepared  Recommendations .
Over 3O participants, including lawyers, judges, judiciary experts, and NGO representatives from Ukraine, Georgia, Armenia, Poland, USA, Italy, Estonia, attended the online meeting. The discussion provided a comprehensive overview of recent judicial reform developments in the region and how successful solutions can cross borders.  
Moderator:
Ms Halyna Chyzhyk - judicial reform expert from Ukraine. 
Speakers:
Dr Tilman Hoppe - a former judge from Germany and Co-Chair of the Selection Commission for the Chairperson of the NACP (Ukraine).
Ms Lavly Perling - a former Prosecutor General from Estonia, member of the Ethics Council (Ukraine) and Judicial Vetting Commission (Moldova).
Nona Tsotsoria - member of the Independent Evaluation Commission for the members of the self-administration bodies of judges and prosecutors (Moldova),  former Judge of European Court of Human Rights.
Mr Taras Pashuk- Legal Advisor at the Secretariat of the Venice Commission.
Listen to the Online Discussion.