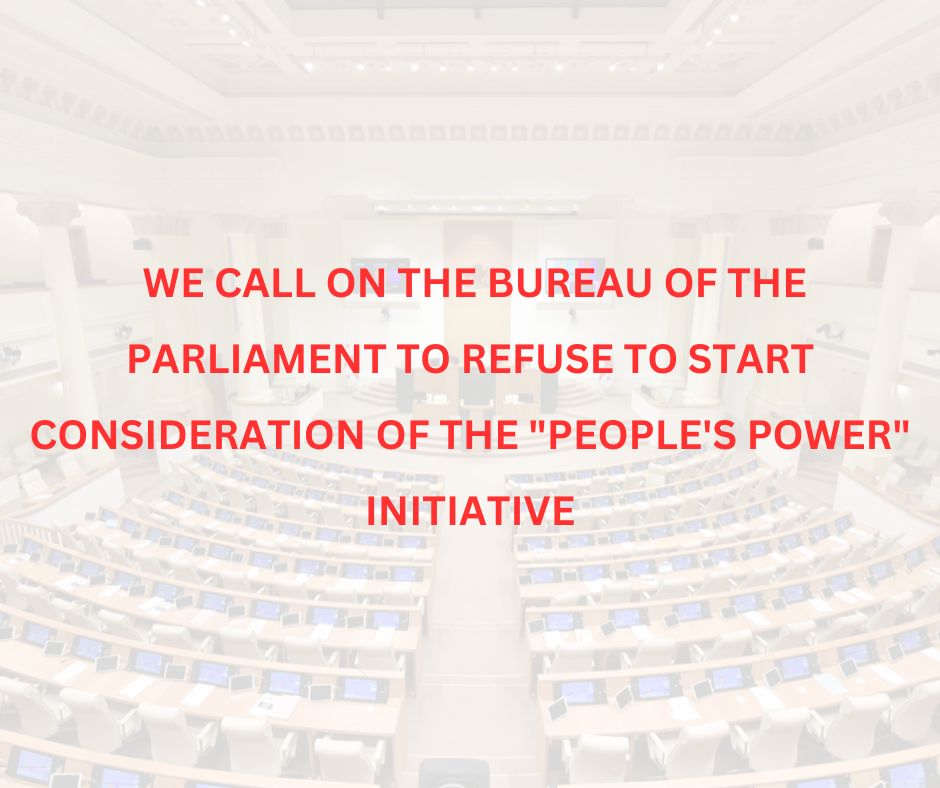 WE CALL ON THE BUREAU OF THE PARLIAMENT TO REFUSE TO START CONSIDERATION OF THE "PEOPLE'S POWER" INITIATIVE
The purpose of the draft law, initiated by the "People's Power"[1], is to put pressure on the civil organizations and media supported by the strategic partners of the Georgian state - to label them as "agents of a foreign country", suppress the public's voice, and significantly limit public control over the governing bodies.
The bill contradicts both European as well as international legislation. A similar law has not been adopted by any EU member state. Among the member states of the Council of Europe, such a law is effective only in Russia, in respect of which the European Court of Human Rights in 2022 found a violation of the European Convention.[2] Outside Europe, the initiation of a similar draft law in Kyrgyzstan in November 2022 was regarded as a threat to the activities of non-governmental organizations, and Kyrgyzstan was called upon to comply with international obligations.[3]
Both the European Union and the structures of the European Council over the years have repeatedly made decisions[4] and assessments[5], arguing that such a law violates human rights and contradicts the democratic principles of governance.
The bill is contrary to the Constitution of Georgia and will not allow Georgia to obtain the status of a candidate country of the European Union. Consideration and adoption of the law, which does not comply with the law of the European Union and the fundamental principles of democracy, will hinder the European integration of Georgia and, accordingly, Article 78 of the Constitution of Georgia. The adoption of the bill will exclude the implementation of the priority tasks determined by the 12-point recommendations for obtaining the EU candidate status. The clause of the bill allowing civil organizations and media to be declared as agents of foreign influence, in turn, is aimed at discrediting these organizations, which, instead of carrying out the task of achieving depolarization, will further exacerbate polarization. The adoption of the bill also runs counter to the 10th priority defined for obtaining the EU candidate status, which suggests ensuring the involvement of civil society in the decision-making process "at all levels".[6]
The bill is clearly unfounded and based on false information. The fact that the bill is similar to the Foreign Agents Registration Act (FARA) in the United States of America is not true.[7] 
---