D
E
M
O
C
R
A
C
Y
I
N
D
E
X
VACANCY ANNOUNCEMENT - PROJECT COORDINATOR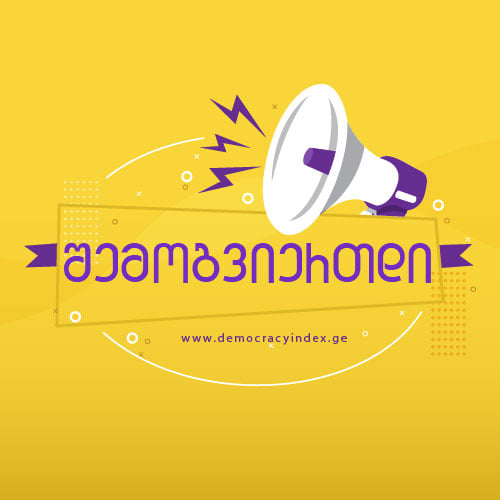 2021-11-30
Democracy Index - Georgia is announcing a vacancy for the position of Project Coordinator in the frame of the project supported by the National Endowment For Democracy - Monitoring the Activities of Parliament.
Information about the organization:
Non-entrepreneurial (Non-commercial) Legal Entity -Democracy Index - Georgia is a non-governmental organization working to promote democracy in Georgia, which was founded in May 2019. Detailed information about the organization can be found on our website www.democracyindex.ge
Information about the project:
The aim of the project is to promote the accountability and transparent activities of the Parliament of Georgia and individual MPs, to raise public awareness about the implementation of the legislative and controlling function of the Parliament of Georgia.
Project deadline: October 1, 2022.
The candidate must have:
- Higher education in law, with a master's degree or equivalent, specializing in constitutional law
- Strong analytical and writing skills
- Perfect knowledge of English
- Teamwork, team leadership and project coordination skills
- At least 5 years of experience working in the profession
- Explicit motivation to work in an observer NGO
The functions of the project coordinator are:
- Implementation of strategic project objectives, achievement of project objectives and effective execution of activities, under the overall leadership of the project team
- Ensure regular monitoring of Parliament's activities to identify problems, challenges and achievements
- Prepare legal analysis of legislative initiatives, identify problems and offer recommendations
- Preparation of legislative proposals, public statements, various communication materials on the problems identified by the monitoring
- Prepare and participate in public discussions and meetings
- Prepare two parliamentary monitoring reports and four draft reports
The competition consists of three stages:
The first stage - the application process
Interested applicants should send the following documents to the following email address: democracyindexgeorgia@gmail.com
- CV
- motivation letter
- Email address / link where the candidate's academic paper, report, research is published / available
The deadline for submission of applications is December 13, 2021, 18:00.
The second stage - interview
Candidates selected as a result of the formal compliance check will be interviewed. Knowledge of English will also be tested during the interview.
Salary rate - from 2300 to 2700 GEL (NET), taking into account qualifications and experience.
Working hours - 10:00 - 18:00, from Monday to Friday (except emergent cases).
An incomplete application will not be considered. Only selected candidates will be invited for an interview.