D
E
M
O
C
R
A
C
Y
I
N
D
E
X
Parliament Violates Constitutional Obligation by Suspending the Hearing of MIA Minister at the Plenary Session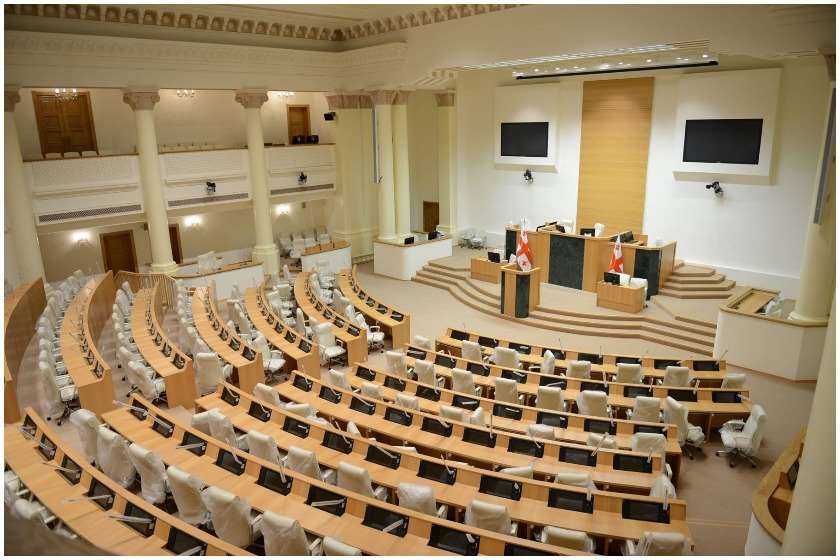 2021-07-20
No legal grounds existed for terminating the hearing of the Minister of Internal Affairs at the plenary session regarding the MIA response to the violence that occurred during Pride Week. The desire voiced by the parliamentary majority to postpone the sitting, which was subsequently satisfied by the Speaker of the Parliament, is a violation of the Constitution and creates the impression that the parliamentary majority is trying to cover up the arbitrariness of the government.
The plenary session dedicated to the address of the Minister was preceded by the protest of media representatives and the parliamentary opposition exhibiting protest banners and photos of the deceased cameraman and demanding the resignation of the Prime Minister and the Minister of Internal Affairs. Although this form of protest did not interfere with the conduct of the sitting, the parliamentary majority showed reluctance to hear the Minister amid protests. The majority leader said the protest was immoral and deemed it impossible to continue the working process against the background of the detrimental actions. Of the same opinion was the chairman of the Georgian Dream faction. Despite the desire of all opposition groups to continue the question-and-answer session, the Speaker of Parliament adjourned the sitting.
As per the Constitution of Georgia, the Parliament shall hear any official accountable to the Parliament upon request [[1]]. Procedurally, the Minister of Internal Affairs himself appealed to the Parliament of Georgia to be invited to the plenary session over an issue of high public interest, thus obligating the Parliament to listen to the Minister. The constitutional obligation has not been fulfilled though. The mechanism of termination of the sitting on the above ground and form is not provided by the legislation, hence the initiative of the ruling party, and then the decision of the Speaker of Parliament, goes beyond the requirements stipulated in the Constitution and the Rules of Procedure.
Referring to the democratic protest by the ruling party as a pretext to suspend the address of the Minister creates a perception that they did not want to hold a hearing of the Interior Minister in connection with the July 5 violence. The same has been confirmed by the fact that since 5 July, despite numerous demands from the opposition at various times [[2]], the Minister of the Interior has not been summoned by the Chairman of the Committee to a sitting of the Committee. These precedents undermine the institutional independence of the Parliament, diminish its oversight powers, and hamper the country's democratic development.
[1] Constitution of Georgia, Article 44(6)
[2] The "Charles Michel Reform Group" has summoned the Minister of Internal Affairs to the Human Rights Committee https://mtavari.tv/news/49021-5-ivlisamde-mtsire-droa-shs-ministris-mocveva
"Lelo - Partnership for Georgia" Initiative on Invitation of the Minister of Internal Affairs to the Committee https://www.interpressnews.ge/ka/article/665032-prakcia-lelo-partnioroba-sakartvelostvis-vaxtang-gomelauris-parlamentshi-gamocxadebas-momavali-kviristvis-itxovs/https://www.interpressnews.ge/ka/article/665032-prakcia-lelo-partnioroba-sakartvelostvis-vaxtang-gomelauris-parlamentshi-gamocxadebas-momavali-kviristvis-itxovs/